It's not an easy question when you love so many movies and you are asked which is your favourite one. The same question is similarly difficult when it's about the top directors. Given as to how many good film directors are out there, we decided to stick to a selection of 5 who easily come to mind. I hate to cut it down to just 5 names, because I sure want to squeeze in another 10 more names or so into those slots, but alas, that's not possible. So here they are, with no importance to order:


Steven Spielberg
Every film lover (and probably even non-film lover) has heard of Spielberg. He is one of the most influential personalities in the history of cinema, and is mostly known for his work as a director, producer and writer. The film which really put him on the map was Jaws (1975). He continued to consolidate his fame with films like Raiders of the Lost Ark (1981) and the rest of the Indiana Jones movies, as well as E.T. The Extra-Terrestrial (1982), and many more, up till today where he is still very much active across a plethora of projects, especially as a producer or director. Spielberg has won 3 Academy Awards (Oscars); two for Schindler's List (1993), and one for Saving Private Ryan (1998).
Martin Scorsese
With films like Casino (1995) and The Aviator (2004), it's hard for Scorsese not to be on our list. One of his earlier films which gave Scorsese the fame the world deserves, was Taxi Driver (1976). The more recent The Wolf of Wall Street (2013) was also critically acclaimed. Scorcese is known to frequently collaborate with Leonardo DiCaprio and Robert De Niro. The director has made a total of 14 feature films and 2 short films which include one of these actors. The first time all 3 of them collaborated together, was in short film The Audition (2015), in which the actors play fictionalized versions of themselves. We are proud to have a Scorcese poster at our venue (see photo below), which shows some of the main characters from his movies. At 76 years old, Scorsese is still very much active in the industry, and at the time of this article has 4 films in post-production which he directed.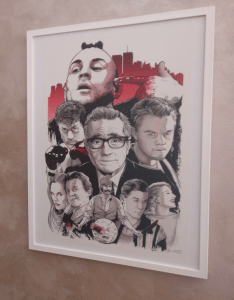 Quentin Tarantino

Modern legend Tarantino broke onto the scene with Reservoir Dogs (1992) at the Sundance Film Festival. Two years later he secured a seat in the hall of fame with Pulp Fiction (1994), which won him the Palme D'Or Award at the Cannes Film Festival. Tarantino is renowned for his graphically violent films which deeply explore their characters through dialogue. Django Unchained (2013) won Tarantino the Best Original Screenplay Oscar, and also got one for Christoph Waltz for the best supporting actor, who became famous through Inglorious Basterds (2009), another film by the legendary director. Tarantino's films are characterized by extended scenes of dialogue, satirical subject matter and nonlinear storylines. He is also one of the few directors who resisted the digital era of cinema by sticking to shooting on film in all his movies. He even once said that the digital era is the death rattle for cinema, and that he would give up directing if he couldn't shoot in film. We certainly hope he continues his directing career regardless whether it's film or digital!


Charles Chaplin
With over 80 films under his belt, it's hard to omit Charles Chaplin from this list. Beginning his acting career at the age of eight, Charles Spencer Chaplin is considered to be one of the most pivotal stars of the early days of Hollywood. He was born in 1889 and started directing films in 1914. All his films were silent until he directed The Great Dictator (1940), his first "talkie", where he plays a humorous caricature of Adolf Hitler. It caused a stir at the time and went on to gross over $5 million and earned five Academy Award nominations. Chaplin's most popular character was The Tramp, and shall forever be an icon of the silent film era in cinematic history. It's so ironic he once said "Movies are a fad. Audiences really want to see live actors on a stage."


Stanley Kubrick
On his 13th birthday, Kubrick was given a camera from his dad which would launch the director towards his destiny to become a cinema legend. He was at first a photographer, but later made his move into film when he directed the documentary Day of the Fight (1951). What really got Hollywood's attention however was The Killing (1956), and only one year later he directed Kirk Douglas in Paths of Glory (1957). Kubrick was notorious for imposing his ideas and standards on the projects he was involved in, and thus had many clashes with actors and crew. Spartacus (1960) and One-Eyed Jacks (1961) were mired in such controversy. Kubrick produced his best films after permanently moving back to England due to his disenchantment with Hollywood. 2001: A Space Odyssey (1968), A Clockwork Orange (1971), and The Shining (1997) are only a few of the many legendary films directed by the meticulous Kubrick. He died tragically when he suffered a heart attack in his sleep in 1999, while he was working on Eyes Wide Shut (1999) and A.I. Artificial Intelligence (2001). Based on his close relationship with Kubrick, Steven Spielberg took over as director of this film and completed the last Kubrick project.


I feel bad not mentioning tens of other directors who deserve a mention in this small peek at the directors' hall of fame. Maybe we'll have another peek another day 🙂 I surely enjoyed the research and I hope you found it as interesting as I did. Till next time!